We are proud to have TLCer Aaron Johnson among the ENR Southeast 2021 class of honorees for the annual Top Young Professionals program! The contest recognizes up-and-coming Southeast construction industry professionals who exhibit notable achievements in terms of career and industry leadership, community service and creating landmark projects. The 20 recipients were chosen by an independent panel of judges, who this year reviewed nearly 50 entries. For the full list of honorees, click here.
Aaron joined TLC directly after graduation in 2006, focusing specifically on healthcare facility design. In 2016, Aaron became a Shareholder in TLC and then in early 2020, based on his exceptional skills and management abilities, Aaron was promoted to Managing Principal for TLC's largest and often most profitable operating unit with annual revenue of $20 million.
Aaron manages projects and key architect, contractor and owner relationships, as well as a team of 19 mechanical engineers, designers and specialists who are responsible for projects that range from planning studies to more than $100 million in construction value. He is responsible for providing guidance and coordinating 20-30 projects at any one time, with oversight of the production and construction administration for as many as 200 projects, assuring proper levels of staffing and progress.
Aaron is also leading multiple teams who are solving engineering challenges for numerous healthcare systems as they battle COVID. Providing patients, medical personnel and staff with facilities that minimize the opportunity for virus transmission is crucial. Aaron has been actively involved in mitigating indoor air quality concerns in healthcare for 600+ patient beds directly by providing designs to enhance the ventilation, while also serving as a team member that is consulting with major healthcare systems with tens of thousands of patient beds. His tireless efforts have benefited numerous healthcare providers, senior living facilities and assisted living facilities during COVID. Aaron has served on the frontline of the COVID battle by inspecting and providing assessments and recommendations of ventilation systems in COVID active healthcare facilities.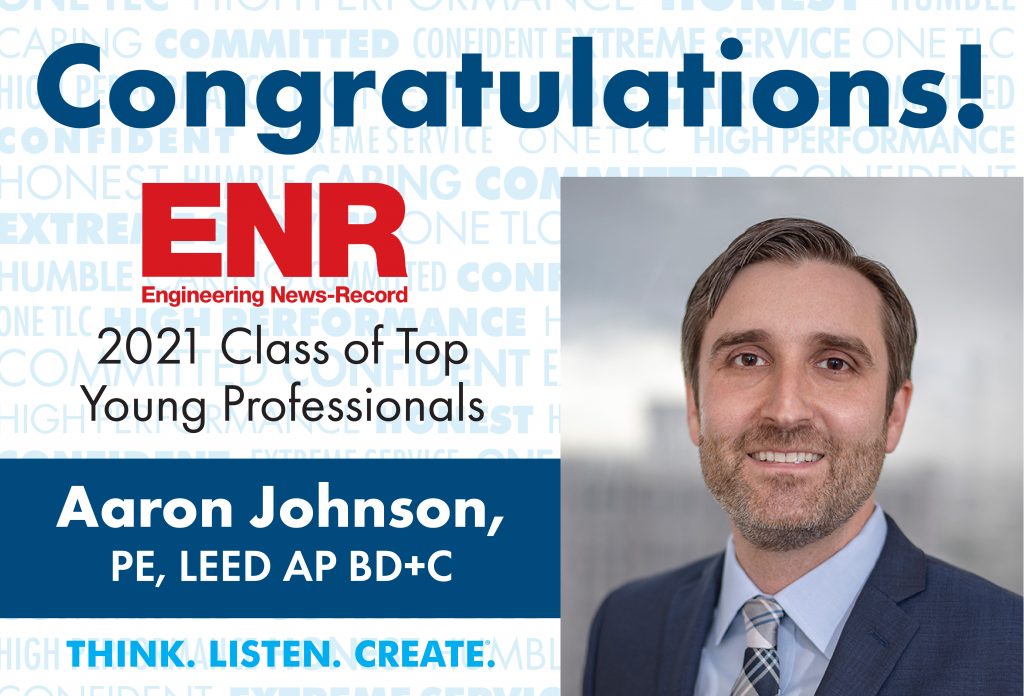 If you wish to congratulate Aaron, you can contact him at aaron.johnson@tlc-eng.com or 407.487.1241.