TLC Engineering Orlando is much like the City Beautiful—multifaceted and diverse, offering services for every building type, from hospitality to healthcare, institutional to theme parks and corporate offices to education at all levels.
The forerunner of TLC began here in 1955, and we've consistently grown while keeping Orlando as the home base. TLC Orlando led the sustainability movement in Florida with the state's first LEED certified project in 2003 and continued to be a leader in high performance and resilient design.
Orlando

Leadership

In addition to being TLC's corporate headquarters, the Orlando office is composed of four operating units: MEP/Energy Services, Healthcare Operations, Structural Engineering, and Technology.
MEP/Energy Services
For commercial and institutional projects.
Healthcare Operations
Supporting inpatient/outpatient care and treatment, research and training, infrastructure and community-based healthcare.
Structural Engineering
For a wide array of project types.
Technology
Providing high-tech solutions for security, audio-visual and voice-data systems.
Leadership, just like designing a project, is best accomplished as a team. I'm inspired daily to develop our leaders. Each unique individual is committed to the TLC team and trusted to build great teams and do awesome work.
As TLC's CEO, Michael is responsible for the firm's corporate strategic planning and overall performance. Prior to becoming the CEO in January of 2015, Michael was the Director of Healthcare Engineering for TLC, leading their design, planning and marketing efforts.
B.E., Mechanical Engineering
City College of New York
As the COO, I get the pleasure of getting involved in so many different things – be it complex projects and challenges, driving process improvement, and assuring that our staff is prepared for any project you might throw at them.,During my time at TLC I've had the opportunity to work on so many signature projects that other engineers wait their whole lives to get involved in.  Projects that really make a difference in people's lives and the communities they live in.
Following more than a decade managing healthcare projects for TLC, Jim became the firm's COO in 2018. His bias towards action, balanced with thoughtful consideration of options make him an effective and respected leader. Jim's technical knowledge in power distribution, power generation and communication and technology systems, as well as the demands and expectations for healthcare facilities has earned him respect in the industry.
M.S., Electrical Engineering
New York University, Polytechnic School of Engineering
B.S., Electrical and Electronics Engineering
SUNY Binghampton University
Our operations folks are dedicated to their clients and our support people are dedicated to our operations staff. The common thread in all of these is respect. An organization built upon that dedication is one I am proud to be a participant in, both in terms of working and being a part of the ownership. TLC is dedicated to its employees.
Bill joined TLC in 2003 and has streamlined the flow of information and supports the informational needs of clients and staff. His quick wit livens up meetings and his business acumen helps decisions to be made timely.
B.S., Accounting
Florida State University
Solving customer challenges with the latest advances in engineering is what we do. TLC is progressive about offering sustainability and human health based solutions to age old built environment challenges.
Brian's strong commitment to common sense sustainability and out-of-the-box creativity results in simple, elegant and sustainable solutions for TLC clients. He was among the first in the nation to earn his WELL AP. Brian leads PEAK Institute, TLC's technical resource group and serves on TLC's board of directors.
B.S., Mechanical Engineering - Cooperative Plan
Georgia Institute of Technology
I have always been interested in how things work. As an engineer and a commissioning agent, I am able to stimulate this curiosity on a daily basis. Additionally, the commissioning process often provides an immediate and tangible sense of accomplishment. TLC provides a very supportive organization that encourages people to seek out the facets of MEP engineering that appeal to them the most, and then gives them the opportunity to turn their interests into a meaningful and lifelong career.
As an energy performance consultant, David compiles data on how buildings perform in terms of energy efficiency, helps our owner-clients understand what the data means, and finds ways for them to save money.
B.S., Computer Engineering
Georgia Institue of Technology
I take great pride in helping our engineers and production staff stay on the cutting edge of technology. TLC is a great firm to work for. I enjoy all the challenges that are presented to me and I truly believe that TLC is the best in the industry. I am proud to be a shareholder at TLC.
Scott's quick British wit, coupled with deep technical knowledge of IT systems, network capabilities and practical solutions to support TLC's technical staff contributes to our firm's successes. He leads a committed team of IT professionals that deliver.
A.A., Information System
Solihull College
Michelle oversees the firm's marketing, communications, branding, and client development initiatives. She provides leadership and marketing strategy that helps to align TLC's marketing efforts with our clients' future needs.
B.S., Business Marketing
University of Central Florida
Engineering for the healthcare industry is rewarding knowing that my work is going directly into the safety and well-being of other human beings. I chose TLC because of their emphasis on healthcare design. I always knew I wanted to do healthcare design, so when I learned about TLC, I quickly realized they were the perfect fit for me.
Aaron joined TLC directly after graduation in 2006, focusing specifically on healthcare facility design. He became a shareholder in 2016, was promoted to Managing Principal in 2020, and recently, he was named a Director of Healthcare, TLC's largest operating unit.
M.S., Architectural Engineering
Kansas State University
B.S., Architectural Engineering
Kansas State University
I've spent my entire 20-year career crafting solutions to complex engineering challenges faced by healthcare systems. I thrive on collaborating with project teams to creatively and methodically engineer buildings that benefit the built environment while meeting owners' needs.
Tony began his career with TLC 22 years ago as an intern. He has advanced through the TLC ranks, becoming a principal in 2016, Managing Principal of TLC's Philadelphia office, and recently, he was named a Director of Healthcare, TLC's largest operating unit.
M.B.A., Business Administration
University of Central Florida
B.S., Mechanical Engineering
University of Central Florida
I enjoy helping identify strategies and connecting dots to help our clients achieve their goals.
Rania serves on TLC's Board of Directors, as Association of Medical Facility Professionals (AMFP) president, advises TLC's Women's Initiatives and is a past president of the SMPS Central Florida Chapter. She works closely with the firm's leadership to identify and develop strategic relationships.
B.S., Education
University of Central Florida
As a healthcare designer, I appreciate our focus and commitment to this industry as well as our depth of experience and resources. It's great to work on projects that you know will help people and communities.
Neal's dedication to providing project teams and clients a high level of responsiveness have proven him as a successful leader. He is recognized for his keen ability to motivate team members to assure project deliverables and client expectations are met.
B.S., Electrical Engineering
Georgia Institute of Technology
I am most proud of how in my small way I have help shape the healthcare group and contribute to setting the standards that has made us a major contributor to the firm and industry. I have watched the firm evolve from 35 employees to close to 400. When the shareholder program was enacted it provided an avenue for those who embraced leadership to help determine the firms direction and have a voice.
With 38 years at TLC, Mark is among TLC's longest term. He serves on TLC's board, in addition to managing major healthcare projects. Mark has shaped many healthcare projects, exceeding client expectations along the way.
B.S., Engineering Technology, Design and Construction
University of Central Florida
I am a true engineer in the sense that engineers are problem-solvers. Buildings are problems that need to be solved, that is why I engineer buildings. Most people get to work on one career-defining project during the course of their career. Since coming to TLC in 1996, I have had 12 of them.
Chris has dedicated his 22+ years at TLC to engineering healthcare facilities, from modest renovations to complex greenfield hospitals with large central energy plants. Chris analyzes options and educates clients to help them make well-informed decisions and investments in their facilities.
B.S., Architectural Engineering
Pennsylvania State University
I get satisfaction from managing challenging healthcare engineering projects and creating healthcare facilities that are safe, sustainable and beneficial to the communities in which we work.
Chris has deep experience in engineering analysis and design of healthcare facilities, ranging from new hospital campuses to renovations. He applies his experience as an accomplished engineer to serve as a mentor to young professionals, helping them develop solutions to complex design challenges.
B.S., Engineering
New Jersey Institute of Technology
Hospitals can be challenging buildings; working to find solutions that seek to improve the health and well-being of all those that work, visit and are cared for within a facility is most rewarding part of being a Healthcare Engineer. I'm proud to work at TLC because I'm surrounded by people that want to make a difference.
With 17+ years of experience in medium voltage distribution and emergency power systems, Michael excels at troubleshooting and resolving complex phasing challenges along with effectively communicating with clients to assure the success of a project.
B.S., Electrical Engineering
University of Florida
Ricardo excels in all conventional aspects of project design and is highly proficient in AutoCAD and Revit. His design expertise spans a variety of building types from small renovations to large, complex and highly sensitive secure building types.  His keen understanding of the importance of designing flexible systems to allow for future growth allows him to work closely with all team members, developing integrated engineering solutions that support the overall building systems and architecture.
B.S., Mechanical Engineering
University of Central Florida
The people at TLC make TLC a firm I am proud to work for; they make it feel like a second home.
Dalia has combined her knowledge of information technology and critical-thinking skills to build a career in electrical engineering. She has proven herself an effective communicator entrusted by clients as a decision maker to meet project objectives.
B.S., Electrical Engineering
University of Central Florida
Chris has more than 14 years of experience in the analysis and design of electrical engineering systems, primarily for healthcare facilities. He brings expertise in power distribution, power generation and communication, and technology systems to the team.
B.S., Engineering
University of Central Florida
Nichole has over 15 years of experience designing electrical systems for new facilities, additions and renovation healthcare projects. Her experience encompasses electrical distribution, emergency power and lighting systems for building facilities.
B.S., Marketing
Florida State University
I truly enjoy the relationships inside and outside of the firm that I have developed over the past 20+ years in Orlando. The projects have been, and continue to be, varied and transformative to the Central Florida landscape. I take great pride in knowing that the people visiting Central Florida will arrive in an airport, go to the convention center, experience theme parks, all facilities that TLC has contributed to over the years.
Wayne grew up on Florida's Space Coast watching history unfold as Saturn V rockets launched, inspiring him to become an engineer. As Director of TLC's Orlando operating unit, Wayne applies his 30 years of experience in electrical engineering to deliver consistent service.
M.S., Engineering Management
Florida Institue of Technology
B.S., Electrical Engineering
University of Central Florida
Frank manages day-to-day project activities, focused on providing exceptional service to TLC clients, as well as designing energy-efficient mechanical systems to solve project challenges.
B.S., Mechanical Engineering
State University of New York at Buffalo
Eric has 14+ years of experience in the design and commissioning of HVAC, electrical, plumbing and building automation systems for high performance buildings and has completed commissioning on dozens of projects that have achieved LEED certification. Eric has significant knowledge and experience in building operations and maintenance and has facilitated O & M training on multiple projects. He specializes in energy-efficient systems design, and control strategy optimization. Eric also has extensive experience in writing commissioning specifications, test procedures, commissioning plans and is skilled in test and balance oversight, HVAC operations, DDC systems, networking, and electrical system operations.
A.A, Engineering
Florida State College at Jacksonville
With over 25 years of experience, Kohnen has developed a solid background and knowledge in the design of mechanical systems which provide high efficiency and sustainability while reducing energy maintenance costs. He has demonstrated excellence in project management and design of new construction and renovation of numerous project types. He is skilled in pre-construction planning, estimating budget, schedule control and construction management and serves as a technical resource on many projects and many disciplines including mechanical, electrical, controls, Cx and lighting design. Kohnen has extensive experience with controls, labs, cleanrooms, and smoke control.
Coursework, Mechanical Engineering
Fullerton College
TLC makes an intentional effort to have ongoing and transparent dialogue with stakeholders at all levels on each of our projects to increase everyone's chance of a successful outcome.
M.S., Civil Engineering and Environmental Science
University of Oklahoma
B.S., Civil Engineering and Environmental Science
University of Oklahoma
Steven's 36+ years of structural engineering experience include a wide variety of projects across the country. He has earned a reputation for excellence in design, attention to detail and outstanding project management.
B.S., Civil Engineering
Michigan State University
Since I was a little kid I always loved building things. I really enjoy helping architects realize their design vision and helping contractors navigate the construction process. TLC shares and supports my commitment to producing excellent work and providing excellent service. It's rewarding to share my experience with all the sharp up-and-comers here.
Carl provides senior leadership to structural engineering on projects under his management. He serves on the national technical advisory committee of "Engineers Without Borders" where he is responsible for reviewing structural aspects of construction.
M.S., Structural Engineering
University of Central Florida
B.S., Business Administration
University of Central Florida
B.S., Communications
University of Central Florida
Assuring that our clients receive the best, cutting-edge technology for the best value is our goal. Our consultative approach of offering solutions has earned our clients' respect.
Taw applies his leadership and technical knowledge to lead TLC's Technology operating unit. His attention to detail and commitment to employ the most appropriate solution for a project's needs have earned his clients' respect.
B.S., Mechanical Engineering
West Point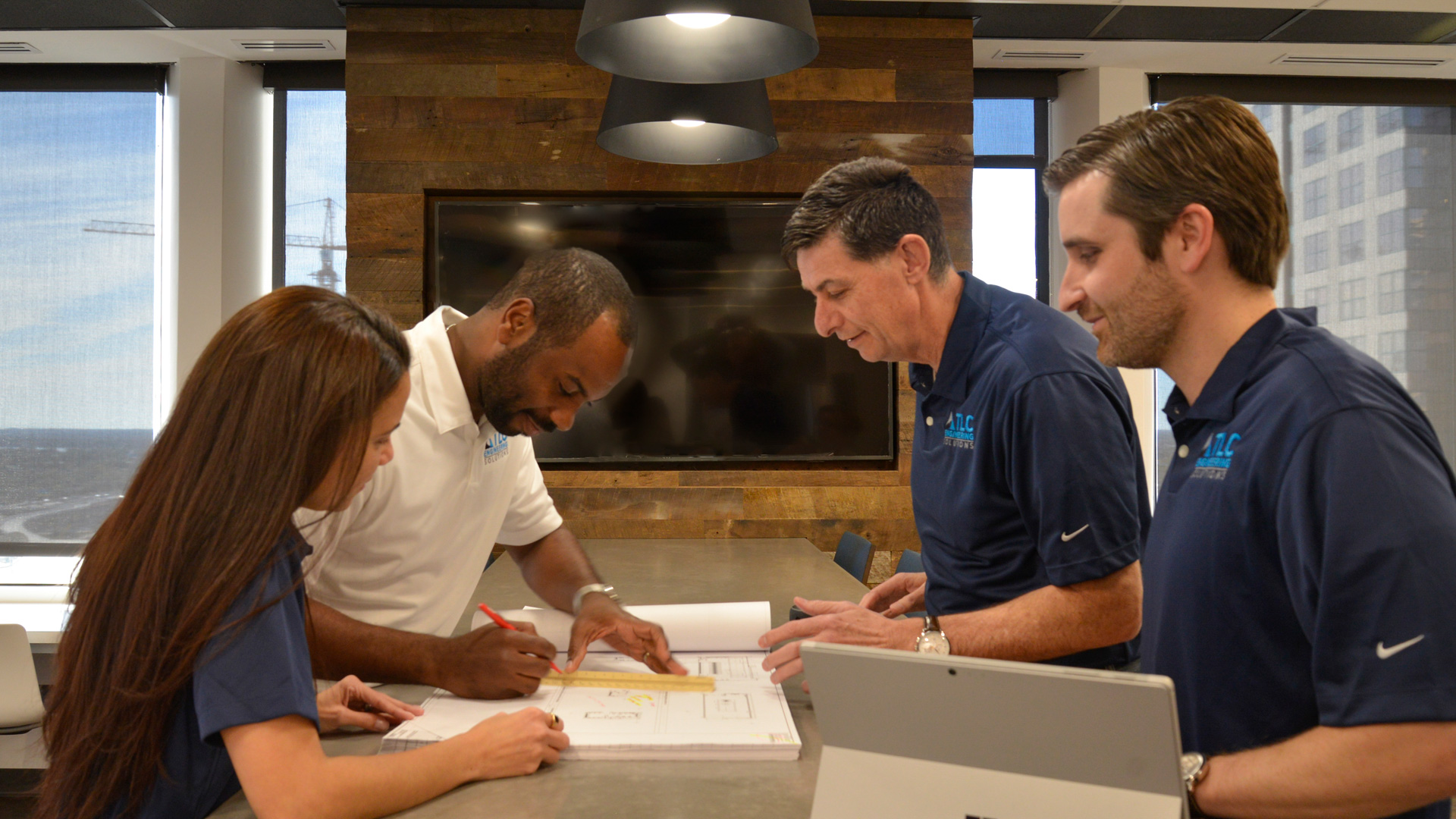 Orlando

Careers

See how you can be a part of the TLC team. Take a look at our complete list of current openings and start your career with TLC today.