TLC Engineering Solutions, Inc. (TLC) is excited to announce our newest principals! These tenured TLCers have made impactful contributions to projects, clients and fellow team members. Continue reading below to learn more about each of these inspiring leaders!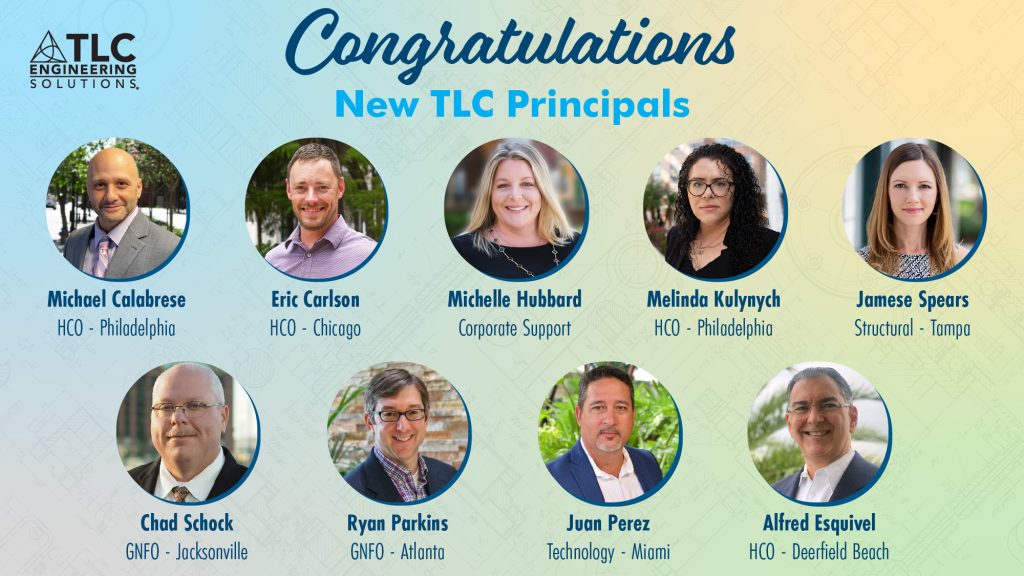 Michael Calabrese, PE, LEED AP, CEM, Principal, joined TLC in 2021 and has over 20 years of experience in the design of mechanical systems, production, pre-construction planning, and project management. With his focus on healthcare design, his expertise and leadership have proven him to be an indispensable member of TLC. He brings a wealth of field experience, assuring designs are constructible and efficient.
Eric Carlson, PE, Principal, joined TLC in 2016 with 10 years of experience. He specializes in project management and engineering of mechanical, plumbing, and fire protection infrastructure. With significant experience in the healthcare market sector, as well as commercial, industrial, and mission-critical, he is a leader who enjoys collaborating with architects and contractors to yield well-coordinated projects.
Michelle Hubbard, CPSM, Principal, has 14 years of experience marketing in the AEC industry and serves as TLC's Director of Marketing. She currently oversees all marketing and communication initiatives from a corporate level and drives TLC's brand recognition throughout the industry. Her leadership and strategic thinking help to further align TLC's marketing efforts with clients' needs.
Melinda Kulynych, PE, CHC, Principal, has more than 21 years of diverse industry experience in developing, analyzing, and implementing complex systems in high-performance healthcare, commercial, mission-critical, and institutional facilities. She was recently promoted to serve as the Operations Manager for TLC's Philadelphia office.
Jamese Spears, PE, Principal, came to TLC in 2015 with almost 10 years of experience in structural design, coordination and construction administration of building structures. She is well-versed in using BIM and values coordinating structural design with mechanical and architectural systems to improve design and project delivery. Jamese has a successful record in engineering a broad range of educational facilities.
Chad Schock, Principal, joined TLC in 2011 and has over 30 years of experience in engineering analysis, design, and on-site construction administration. His design experience includes piping systems for water, wastewater, fuel oil, liquid gas, and natural gas. He is also experienced with fire protection including design and installation of fire pumps, clean-agent fire suppression systems, carbon dioxide, and foam systems.
Ryan Parkins, PE, Principal, started with TLC in 2015 with almost 15 years of experience managing projects, energy modeling and designing mechanical systems on a variety of project types. Ryan manages the MEP design team and uses a hands-on approach to establish a quality, high-performance design.
Juan Carlos (JC) Perez, Principal, joined TLC seven years ago as a systems project manager with over 18 years of experience in telecommunications and construction administration. JC's proficiency in thorough designs and effective communication makes him an expert at synthesizing information to achieve successful solutions that meet clients' needs. In his current role, he is responsible for completing the design of projects on time and within budget.
Alfred Esquivel, PE, Principal, began his career as an electrical engineer and has worked for the past 26 years in a Principal role for regional and national engineering firms prior to joining TLC. His experience includes the design of power, lighting, fire alarm, and communication systems for healthcare, aviation, municipal, commercial, laboratory, and education facilities. He specializes in large complex electrical power distribution systems for essential and critical facilities.