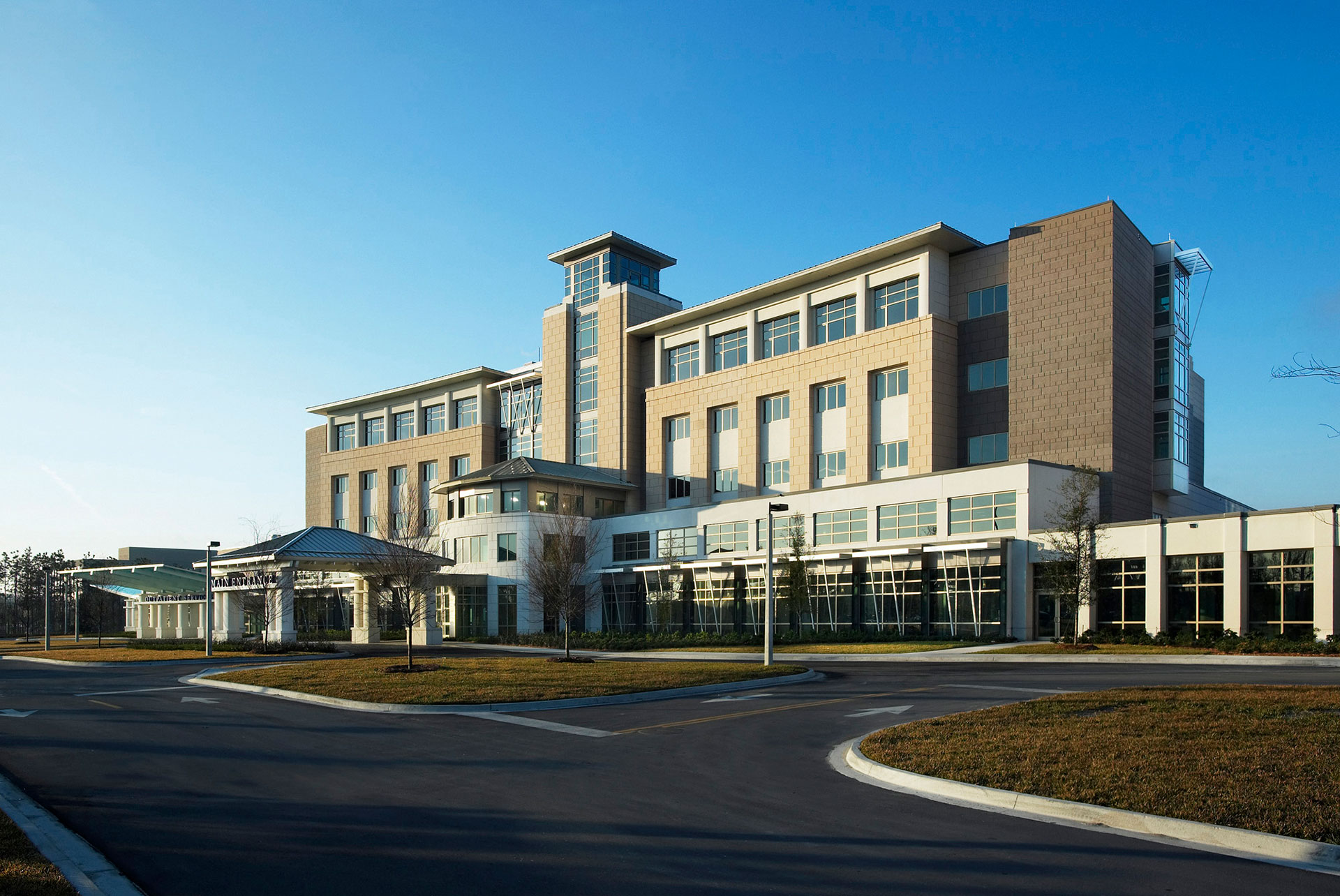 Image Courtesy: Gresham Smith
Baptist Medical Center South Hospital, Patient Tower D and Medical Office Building
Main Hospital
248,000 FT2
Patient Tower
250,000 FT2
Medical Office Building
100,000 FT2
Jacksonville, FL, USA
Healthcare / Hospitals / Inpatient Facilities / High Performance Healthcare / Building Resilience in Healthcare / Infrastructure (CEP) / Master Planning for Hospitals
Mechanical, Electrical, Plumbing / Life Safety and Fire Protection / Commissioning
Overview
Even before Baptist Medical Center South opened in 2005, hospital officials recognized an expansion would be needed to serve the needs of southern Duval and northern St. Johns counties. In keeping with the original master plan, design and construction proceeded on an eight-story, 62-bed patient tower that more than doubled the size of the hospital. As a design/build project, integrated project delivery concepts helped the design/build team coordinate the process.
Tower D, which is connected to the main hospital via a hub, has a 16-bassinet nursery, six neonatal intensive care unit (NICU) beds, two new caesarian section rooms, and 12 labor/delivery/recovery/post-partum suites. Portions of the main hospital were renovated, including the NICU, the pharmacy and the fifth-floor surgery unit.
The six-story, 120-bed main hospital has a full service emergency department, radiology, outpatient surgery, and a women's center. It also houses 92 suites, including 12 maternity, eight intensive care unit suites, along with an 18-bed day stay area. Ambient lighting creates a soothing environment in patient care areas. The lobby and atrium are equipped with an energy-saving dimming system that regulates light levels based on the amount of day lighting.
The adjoining five-story Scott & Paryani Medical Office Building houses physicians' offices, a pharmacy with computerized patient records and outpatient rehabilitation services. Located on the first floor is an 18,000 square foot ambulatory surgery center. The rooms include large high-definition monitors to enhance visual clarity for the surgeon. The 2nd through 5th floors of the MOB are set up for separately metered tenant suites.
Features
Energy-efficiency and flexibility were key goals in designing the central energy plant. Two high-efficiency 1200-ton chillers and two dual-cell cooling towers serve the 3,500-ton load of the campus. Hot water and building heat needs are met by two 300-hp boilers and two 30-hp steam boilers, respectively. Included in the mechanical systems design is a 15-ton chiller specially designed to remove the heat generated from the high-powered MRI equipment. Backup power for the main hospital is supplied by two emergency generators, a 1,500-kw and a 2.5-mw.