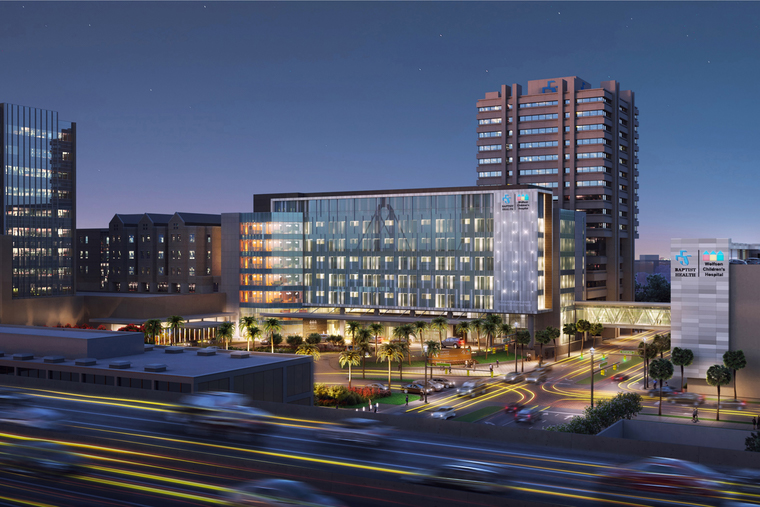 Image Courtesy: Freeman White
Overview
The Wolfson Children's Critical Care Tower expands the level of specialized pediatric care in the Jacksonville region. The tower serves as the front entrance for the entire Baptist Medical Center downtown campus, enhancing wayfinding and convenience by connecting patients and visitors to the Wolfson Children's Hospital, Baptist Medical Center Jacksonville and nearby parking garage.
The seven-story tower consists of a penthouse, two lobby floors, three neonatal intensive care center (NICU) floors and two pediatric intensive care unit (PICU) floors. An 85-foot-long skybridge over Palm Avenue connects the main parking garage on campus to the second level lobby of the tower.
Features
Replacing the NICUs in Wolfson Children's Hospital, the tower includes a 75-bed NICU with three private patient / family NICU suites. The suites are equipped with full showers, bathrooms and parent wardrobes, providing a comfortable environment for parents to be close to their children in the NICU. Combined with a 26-bed PICU, these centers provide services for critical conditions.
This complex project involves integration and tie-in into three adjacent campus facilities and upgrades to the central energy plant serving the campus. The plant modifications include the addition of an 1800-ton chiller and cooling tower, as well as a 1500 kw, 13.2 kv emergency generator.