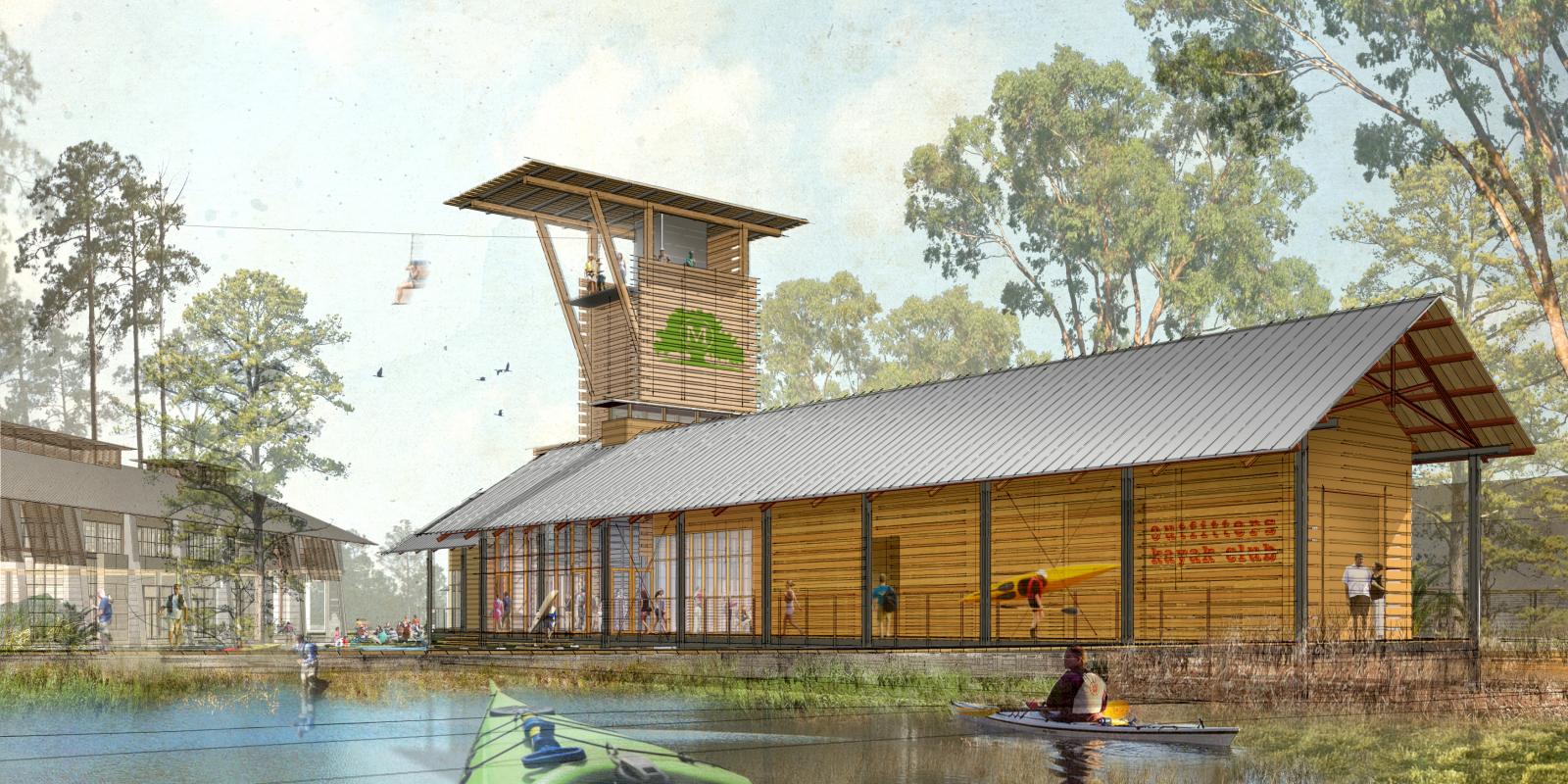 Image Courtesy: Lake Flato
Overview
Moreland Village is a new master planned community of 500 home sites on 600 acres and is envisioned to embrace an active lifestyle for residents. TLC provided engineering services for amenity buildings in this new community. Buildings engineered by TLC include:
Outfitters Center – a 7,600 square foot complex that includes retail, canteen /deli, classroom, real estate offices and a detached maintenance building.
Conservancy: a classroom building featuring an outdoor amphitheater and a classroom for kids' day camps and lunch-and-learn-style lectures.
Features
TLC is responsible for commissioning these buildings, along with two additional building designed by others:
The Boundary: a recreational village hub with a game room, bowling alley, restaurant, bar, lounge, outdoor activities lawn with fire pits and hammocks, art loft for classes and visiting artists and flex room for events.
Fitness Facilities: the Boundary is also home to a fitness center with studios for spinning, yoga and Pilates classes; a lap pool; and a family pool with water sports courts, a kid's play area, cabanas and pool bar.
The village amenity buildings are heated and cooled by a geothermal system designed and commissioned by TLC. To be environmentally responsible, a plate frame heat exchanger was installed to separate the open ground water loop from the closed loop to prevent the potential of possible contamination from an air conditioning unit refrigerant leak. The system is environmentally friendly as there is no fossil fuel combustion in geothermal systems. The system, capable of producing 165 tons of cooling, significantly reduces the amount of greenhouse gas emissions over a more traditional HVAC system.
The geo-thermal system, in conjunction with variable refrigerant flow (VRF), creates a highly efficient mechanical system that significantly reduces the energy consumption of the amenities complex from code standard requirements, while providing a comfortable environment for building users.