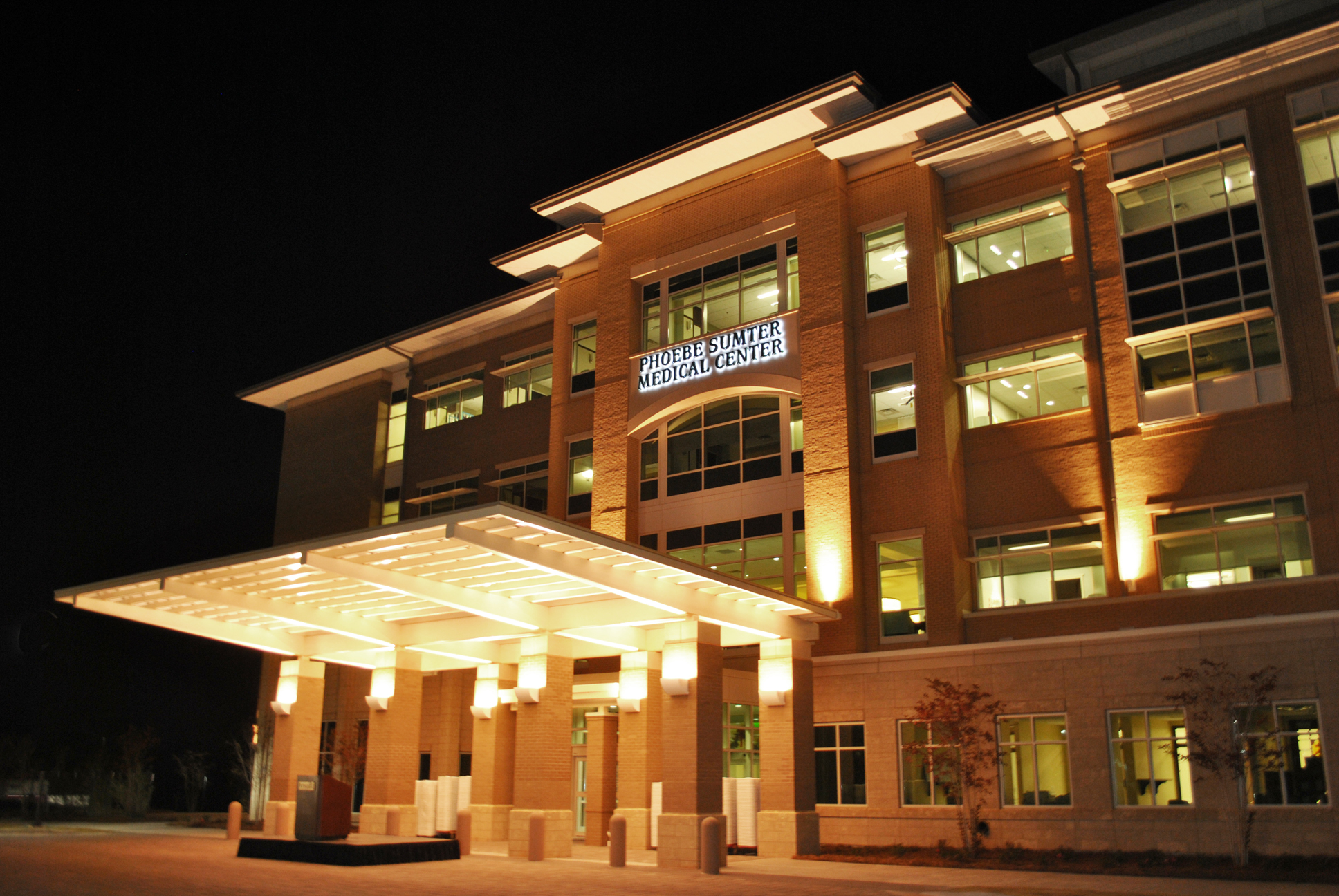 Phoebe Sumter Medical Center
Women / Family Health Center
16000 FT2
Surgery / Oncology Center
20000 FT2
Wellness / Education Center
20100 FT2
Americus, GA, USA
Healthcare / Hospitals / Inpatient Facilities / Outpatient Care / Women's / Children's Hospitals
Mechanical, Electrical, Plumbing / Life Safety and Fire Protection / Technology / Energy Services
Certified LEED v2.2 NC Silver, 2012
Overview
The Phoebe Sumter Medical Center was funded by the Federal Emergency Management Agency (FEMA) following the March 1, 2007 destruction of the Sumter Regional Hospital by an EF3 tornado. To speed delivery of the new healthcare campus, the design and construction teams employed methodologies used in Integrated Project Delivery.
The new Phoebe Sumter Medical Center is truly the heart of the community and includes a 76-bed hospital, a detached central energy plant and three outpatient buildings. The four-story main hospital features a surgical suite with five operating rooms and corresponding PACU/recovery departments, an emergency department, diagnostic departments, dialysis areas and 76 patient rooms.
The two-story Women's and Family Health Center houses physician offices, ultrasound suite and mammography suite. It was completed in 2010 at a cost of $2.5 million. The two-story Surgery and Oncology Center features an oncology clinic, pharmacy and offices and was completed in 2010 at a cost of $3 million.
The one-story Wellness and Education Center includes physical therapy/rehabilitation areas; orthopedic physician offices; wound care suite and three classrooms with enhanced audio-visual systems. It was completed in 2010 at a cost of $2.5 million.
Features
The hospital and outpatient buildings are all individually LEED Silver certified. Sustainability strategies on campus include stormwater management, reuse of rainwater for landscape irrigation, reduced lighting power density, high efficiency HVAC systems and a 26,000 square foot green roof that enhances thermal performance while creating a healing atmosphere for patients.
The hospital's new central plant features two high efficiency, 700-ton centrifugal chillers; two 200-bhp hot-water boilers two steam boilers; a brine chiller for 64 degree design temperatures in the operating rooms; a double-ended 3,000-amp, 480/277V electrical service  with utility grade metering and relays and cogeneration controls; and six 600-kW generators capable of supporting the entire facility on emergency power for 96 hours.