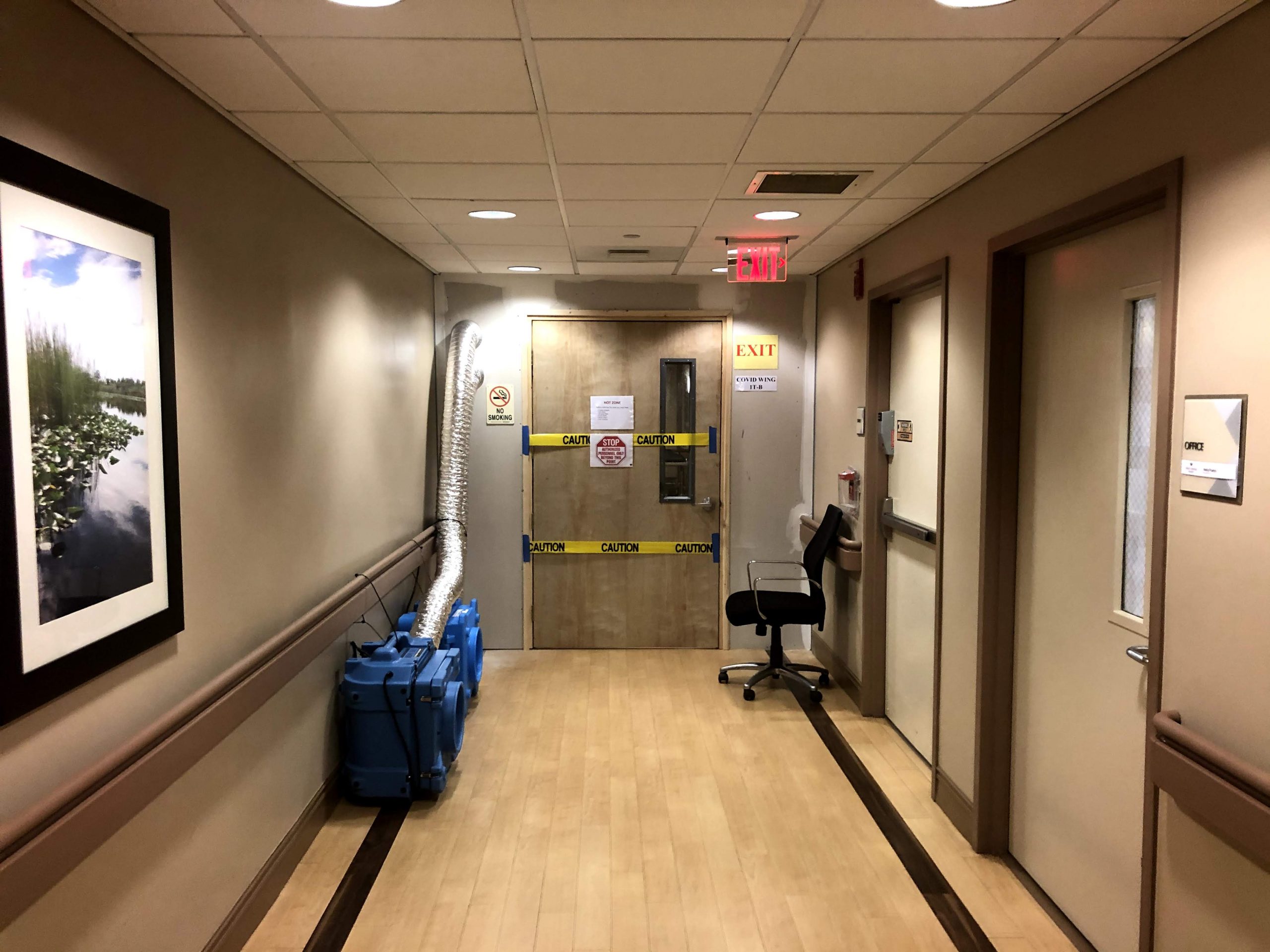 Overview
Faced with protecting residents and staff on a campus that includes a long-term rehabilitation hospital, hospice, dialysis treatments center, independent and assisted living communities and a 432-bed skilled nursing facility, the leadership of Miami Jewish Health had to act quickly. With Miami a hot spot for the rapidly spreading virus, the campus was closed to non-essential personnel and the 32- bed acute care hospital on campus designated for residents who tested positive.
In short order, the rate of infection required additional space. The first two floors of a skilled nursing building were converted to temporary COVID-19 wings. The floor design with centralized nursing stations and main entry / exit at the ends of the units allowed them to be converted to isolation units. Anterooms were added at entrances / exits, as well as PPE donning and doffing areas, to create physical barriers.
Features
MJH employed an approach TLC recommended in widely published webinars by exhausting COVID-19 patient rooms and increasing air change rates to exceed the CDC HVAC requirements. Cost-effective individual room exhaust fans were ducted to the outside, requiring additional outside air to be introduced. Sidewalks and areas outside of the newly ducted rooms were restricted to protect residents and staff. Portable HEPA-filtered air scrubbers were added to nursing unit entries to supply filtered air to the positive pressure temporary anterooms, supplementing the existing dehumidification units in the facility common areas.
Additionally, the central plant chillers' chilled water flow rate and temperature were adjusted to temper the additional outside air. Planned excess capacity in the plant allowed for this adjustment. Alternatively, a trailer-mounted chiller unit could have been employed, which would have increased time and costs to achieve the required conditioned airflow. The result of these cost-effective measures was the ability to safely house up to 52 residents who had tested positive, as well as 14 residents who were being evaluated for the virus.
During the rapid planning for alterations, the project team expedited approvals through the Florida Agency for Health Care Administration (AHCA). The alterations successfully passed the AHCA-required 100% field survey.