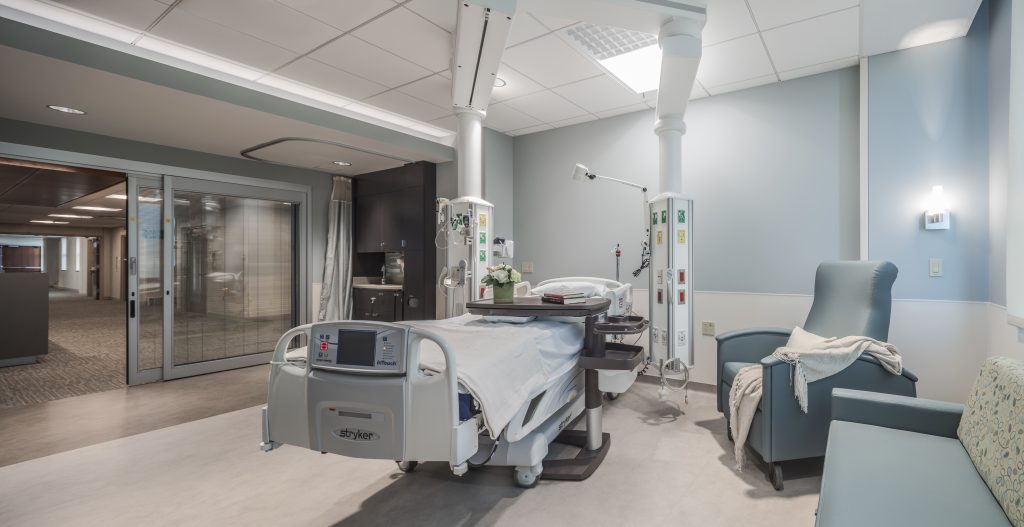 Overview
Northwestern Medicine's Delnor Hospital is a leading acute-care facility with a regionally known state-of-the-art cancer center, breast health center, and critical ICU department.
This project involved renovations and expansion of the ICU, upgrading the department with 20 new coronary care unit (CCU) and intermediate care unit( IMCU) rooms. The purpose of the project was to design a highly effective, functional space within an environment of enhanced experience for patients and visitors. This single-phased project was part of a larger renovation and expansion effort at Delnor Hospital.
Features
The design team utilized a LEAN project approach to meet project deadlines. The new design provides exceptional space for patient treatment and also features unique spaces for family regeneration and comfort such as sleeping areas, lounges, and shower facilities.
The project consolidated all CCU beds to a single location on the second level of the hospital, the closest location to surgery with easy access to the emergency department. The design included two negative pressure isolation rooms and one positive pressure isolation room. Each of the new, state-of-the-art rooms were equipped with dual booms. Additionally, new mechanical upgrades were provided to allow for half of the unit to use 100% exhaust, in case an emergency event occurs where recirculated air is not desired.
A variety of other building systems were renovated including ventilation systems, air handling units, exhaust systems, chilled and hot water systems, various plumbing systems, fire protection systems, and medical gas systems.