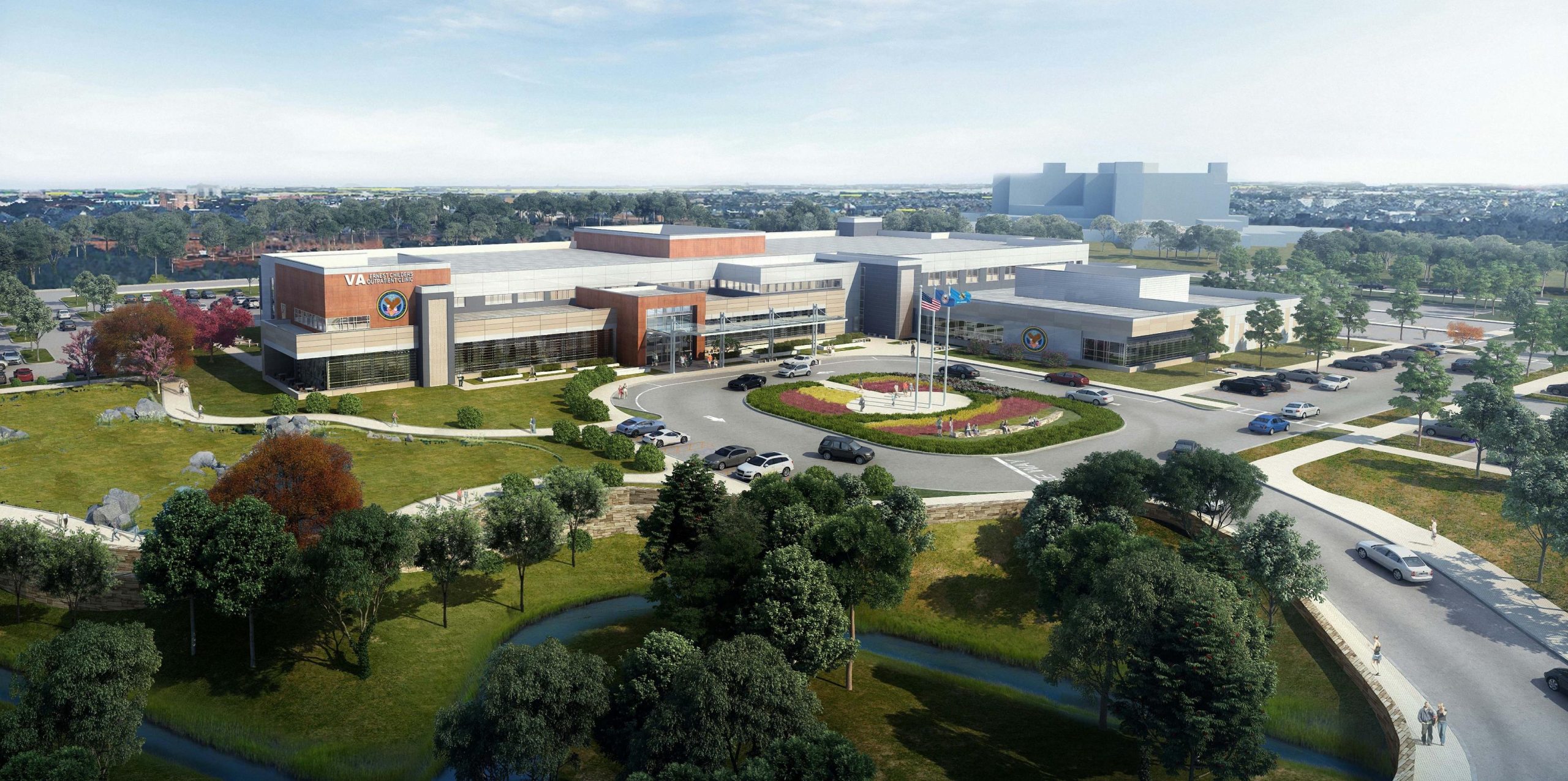 Image Courtesy: SASD and Perkins Eastman
Ernest Childers V.A. Health Care Center
140000 FT2
Tulsa, OK, USA
Government / Federal / Healthcare / Behavioral Health Facilities / Hospitals / Inpatient Facilities
Mechanical, Electrical, Plumbing / Life Safety and Fire Protection / Technology / Energy Services
Registered for Green Globes Certification, Targeting Two Globes
Overview
This new world-class, two-story healthcare center positioned on 22 acres consolidates all V.A. outpatient services in Tulsa previously being provided by three separate clinics. Operated by the Eastern Oklahoma VA Health Care System (EOVAHCS), this facility houses 1,800 square feet of group room dedicated to behavioral health, 1,900 square feet of open exercise physical therapy treatment space, 92 exam rooms, six consultation rooms and six procedure rooms for primary care, and a rehabilitation and recovery center with full kitchen, day room, shower and laundry.
The facility accommodates 945 vehicles and also houses offices for veteran services, retail store and food court, warehouse, V.A. police operations suite, and five conference and education rooms. The pharmacy includes USP 800 area for compounding room, ante room and chemo isolation rooms; and USP 797 area for filling and assembly and the controlled substance secured dispensing room. Special systems include nurse call, public address, intercommunication, mass notification, satellite, and critical equipment temperature monitoring systems.
Features
The electrical design incorporates an emergency electrical distribution system including a 1,500 KW, 277/480V, 3ph, 4W diesel fueled engine-generator, capable of providing 96 hours of operation and a 50 KVA UPS with bypass and 15 minutes battery life for critical computers, refrigeration and medication dispensing loads. With two Green Globes certifications targeted, plans detail LED interior lighting fixtures and a networked digital lighting control system using vacancy sensors that integrate time-based, daylight based, and sensor based lighting control schemes.
A high level of security is achieved with a combination of systems. An SSTV system monitors building  entrances, restricted areas, mission critical asset areas, and alarm conditions. The Intrusion Detection System (IDS) monitors the site perimeter, building envelope and entrances, and interior building areas where access is restricted or controlled. Finally, a Physical Access Control System (PACS) is in place, which includes card readers, keypads, biometrics, electromagnetic locks and strikes, and electronic security management system (SMS)